The Roadster was produced from 1973 to 1995 by Spartan Cars, and will remain the best known and representative model of the brand.

The first models (Spartan Mk I, from 1973 to 1983) were mounted on Triumph Herald chassis and offered 2 seats, like published MOTOR magazine in june 1981 :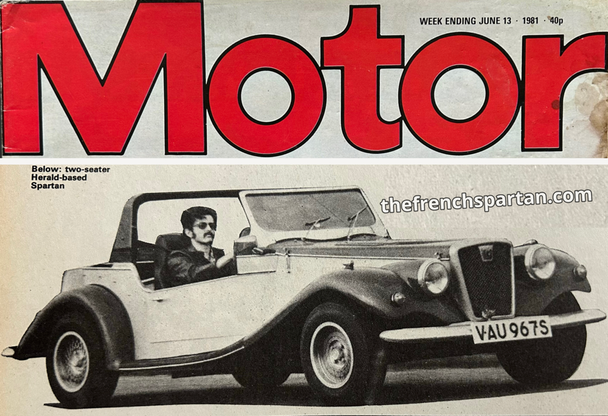 Over the years, some modifications have been made to allow 2 rear seats, before, as Triumph's parts became scarce, the chassis was replaced by that of the Ford Cortina, introduced in 1980.

The French Spartan is a Ford based (Spartan Mk II, produced from 1983 to 1995).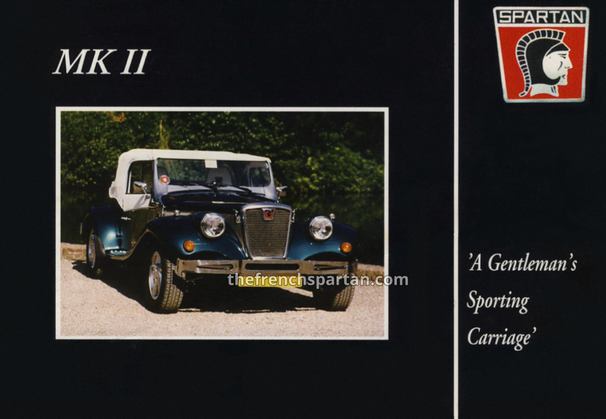 Under the impetus of Spartan Nederland, many Spartan were marketed in this contry.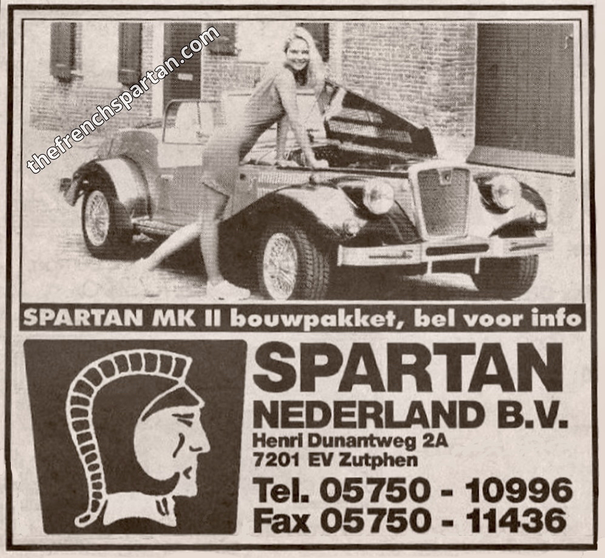 Spartan Car Compagny had produced 4,000 vehicles, mainly Roadsters witch had been in the number of 3000, and exported to 24 countries, as we can see on this advetisement :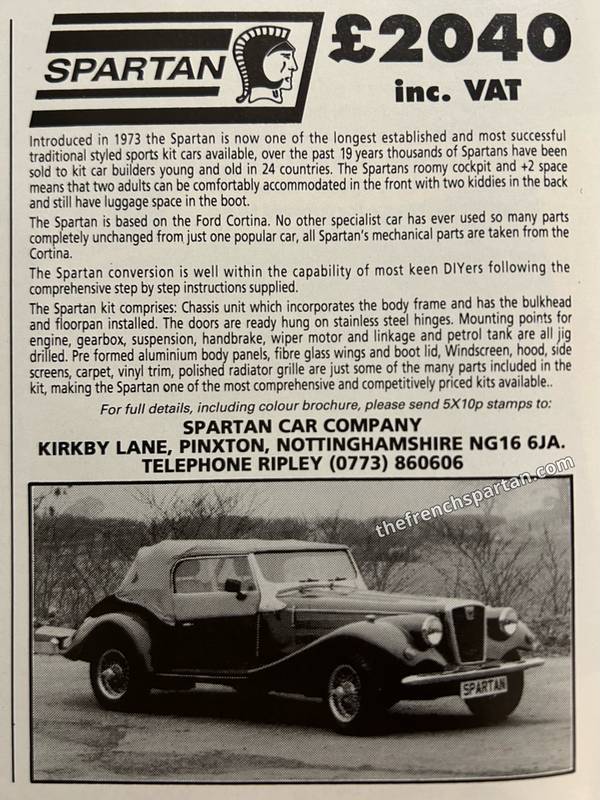 Of the 3000 Spartans produced, 2000 were Triumph-based, and 1000, the most recent, where Ford-based.

The first Spartan, based on Triumph, had a rather "square" rear :


The Spartans who came next, on a Ford base had a much more profiled rear :
We dit not known exactly how many are still in circulation around the world. The most are in England, country of Jim McIntyre, founder of the brand.
In 1973, in Spartan Cars' first commercial brochure, he wrote :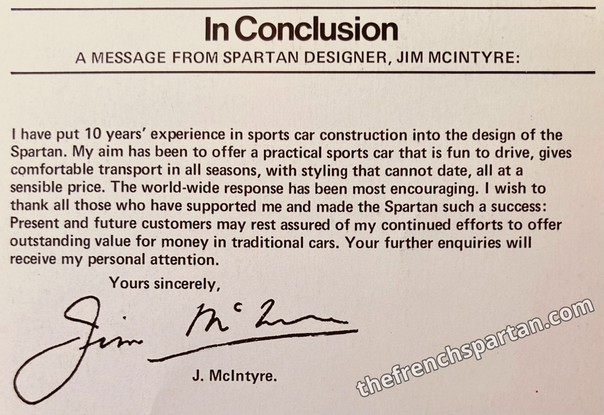 One of the main objectives of Jim McIntyre, who had already rebuilt a very large number of sports cars at the time, was to offer a car whose bodywork would be spared by rust, and composed of easily replaceable elements in the event of damage.
He wanted a car designed to last, and had chosen an aluminum sheet body with fibreglass wings.
Despite the resemblance of the latter to those of the MG TF, Jim McIntyre liked to recall that the Spartan was never designed with the idea of a replica, but simply in a traditional, timeless style.
With his Spartans, Jim McIntyre has made the dream of a large number of people accessible, and, 50 years later, some still dream.... The budget has changed, but the timeless style he wanted is still so today.


In 1991, Steve Beardsall, Jim McIntyre's right-hand man for years, took over Spartan Car Company.
In February of that same year, he entrusted his Spartan to "Witch Kits?" for a "road test" at the end of which they published :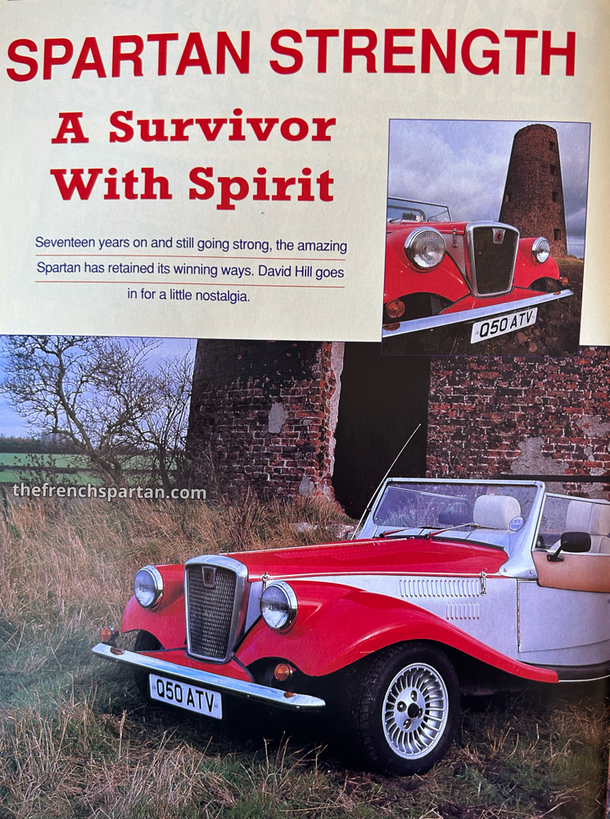 In France, a few copies remain.
---
First registration : july 1987

FFVE certificate for obtaining a collector vehicle registration document : July 2017

Start of the complete renovation : May 2022

---
SPARTAN Roadster Mk2

Ford - RWD

Outside length :

3810 mm

Width :

1588 mm

Height :

1258 mm

Wheelbase :

nc

Weight (approx.) :

940 kg - (712 kg for 1599 cm3 version)

Top speed :

195 km/h

0-100km/h :

9,7s
---
Ford Sierra 2.0i DOHC Engine 125HP 92KW 5600RPM

DOHC Engine, N9.

Type of engine :

4 cylinders in line

Energy :

Petrol

Arrangement :

Front longitudinal

Fuel supply :

Injection

Distribution :

2 overhead camshafts

Distribution chain :

Yes

Number of valves :

2 per cylinder

Displacement :

1998 cc

Power :

125 horses à 5600 tr/mn

Engine couple :

17,5 mkg à 2500 tr/mn

 

Manual Gearbox MT75 5/1

Gearbox :

5-speed

Fiscal power :

11 horses

Type :

Propulsion 

Traction control :

No

ESP :

No
---
Each engine has its features and ils specificities.
The information provided below is only related to that of The French Spartan.
In all cases, the maintenance of a car must be entrusted to automotive professionals.
Ford EU - Sierra 2.0i DOHC 125HP 92KW 5600RPM

Engine DOHC, N9.

Lubricating capacity :

4,5 litres

Filter capacity :

0,5 litre

Recommandation :

Engine oil 10W-40 Semi Synthetic

To change :

Every 10000 km / 12 months

 

Manual Gearbox MT75 5/1

Lubricating capacity :

1,2 litres

Recommandation :

Gearbox oil 75W-90 GL-3/4/5 Premium Synthetic TDL

To control :

Every 20000 km / 24 months

Alternative :

Gearbox oil 75W-80 GL-5 Premium Synthetic MTF

To control :

Every 20000 km / 24 months

 

Rear differential

Lubricating capacity :

0,9 litre

Recommandation :

Transmission oil 80W-90 GL-5 Mineral Hypoïd Oil

To control :

Every 20000 km / 24 months

 

Hydrolic brake system

Recommandation :

Brake fluid DOT 4

To change :

Every 60000 km / 36 months

 

Power steering

Capacity :

0,75 litre

Recommandation :

Automatic transmission fluid Dexron II-D

To control :

Every 10000 km / 12 months

 

Cooling system

Capacity :

7,3 litres

Recommandation :

Coolant -36°C

To change :

Every 60000 km / 24 months
---
The chassis of the Spartan Mk2 is that of the Ford Cortina Mk III - IV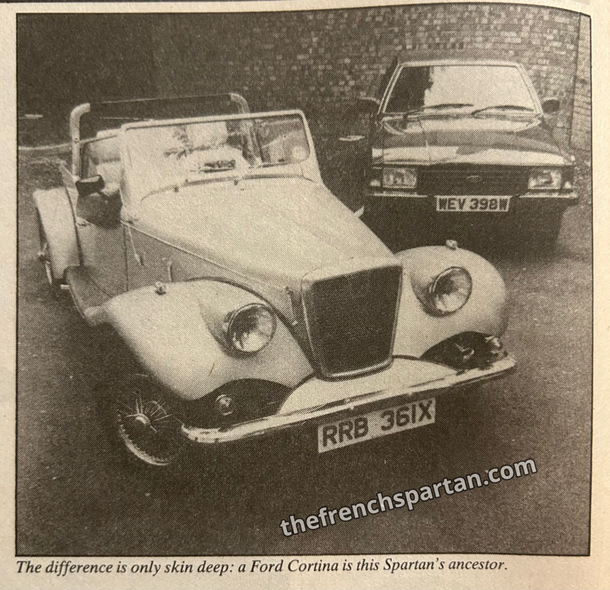 Designed with 2mm steel sheets, it gave the Spartan an excellent rigidity.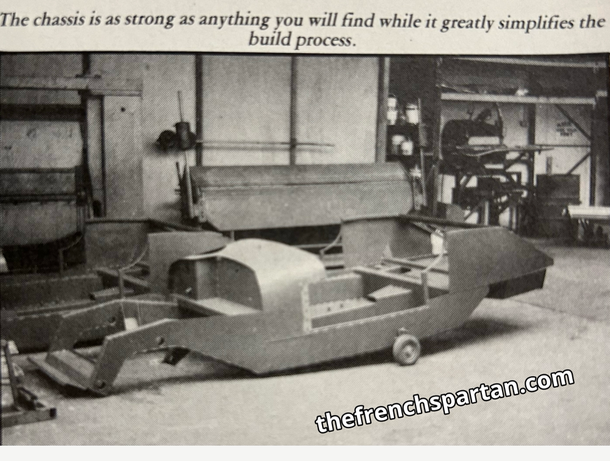 Ford Cortina Mk IV

Fuel tank

capacity :

54,1 L / 11,9 UK gallons
---
Spartan Roadster fenders are made of fiberglass and its body is entierely composed of aluminium panels. 
Here are the bare body parts of a Spartan :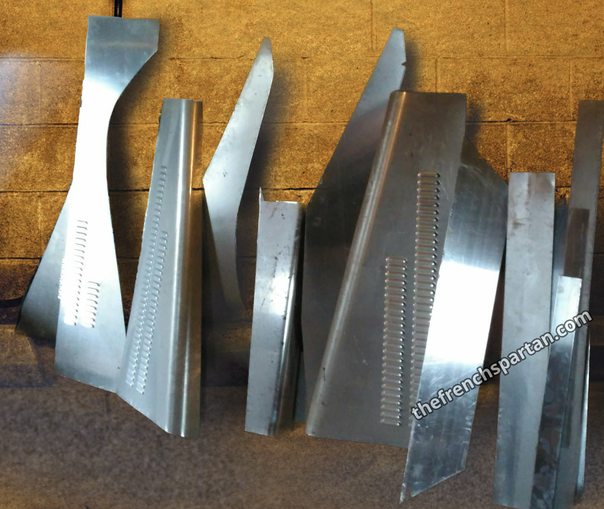 At the time, the assembly instructions were worded as follows :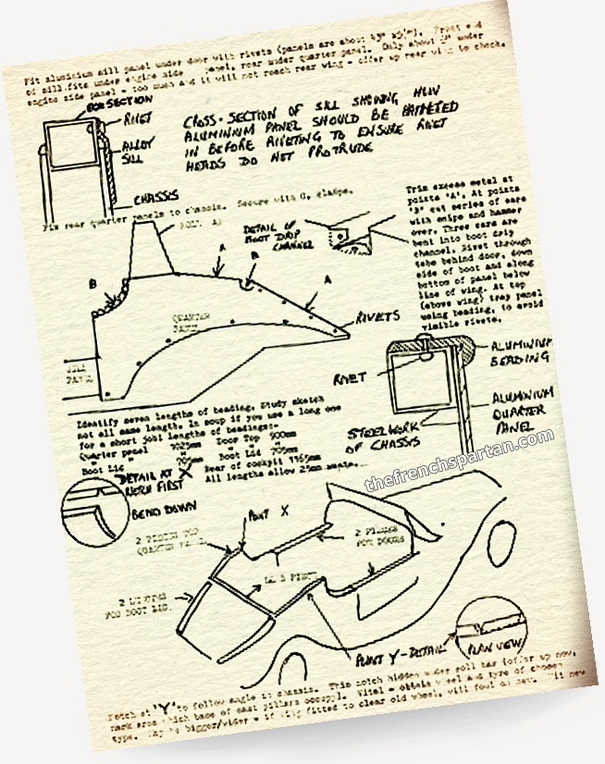 ---
Rims : MWS 15" x 5.1/2" hub 42mm 8tpi
Tow-eared
Tires : 185/60R15
---
Headlight : Lucas P700 x 2
Night light fender : Lucas L516 x 2
Long range light : Lucas SLR576 x 2
Rear lights : Ford Anglia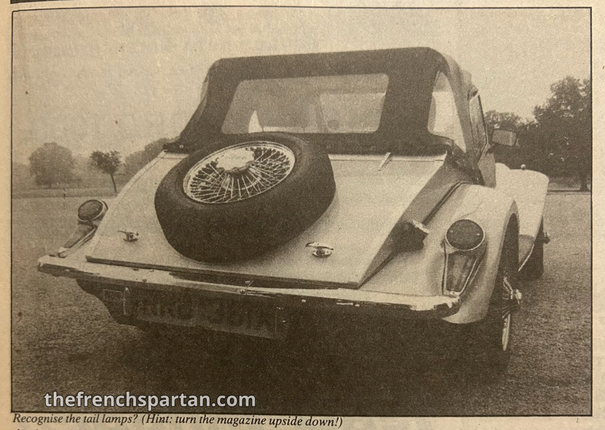 The Spartan Mk2, based on Ford, received rear lights from Ford Anglia (so British !), as in the photo above, or from Austin 1300 (British too !) :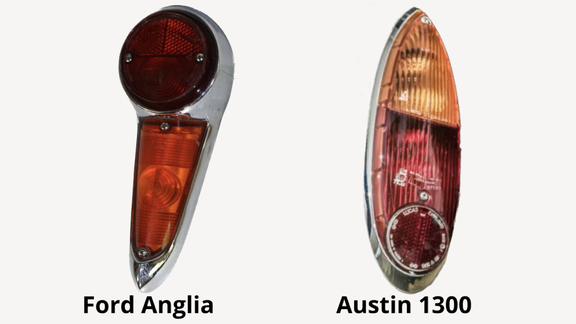 ---
The French Spartan will be Luxcom's Red 
The exact reference of the painting is :
FORD P 9 4Z RADIANT - SPANISH RED XSC2251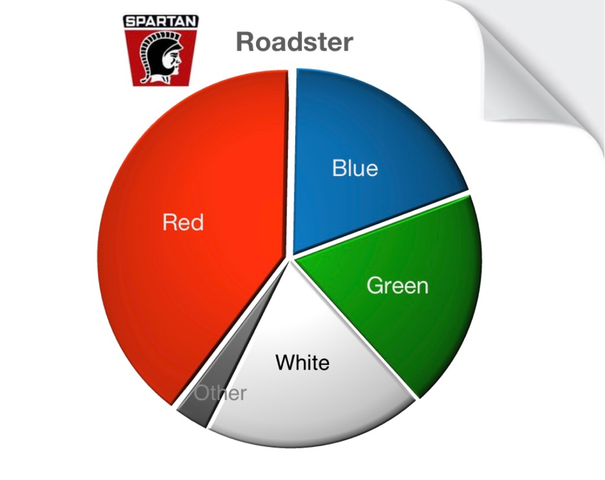 Red would have been the most given colour to the Roadster and would have represented up to 40% of the registered Spartans.
There are also beautiful white, blue and green copies, a priori in equal parts for just under 20% each, the other colours and the two tones remaining more marginal, like Olive's magnificent two-colour (which is looking for side windows, if you can help him...) :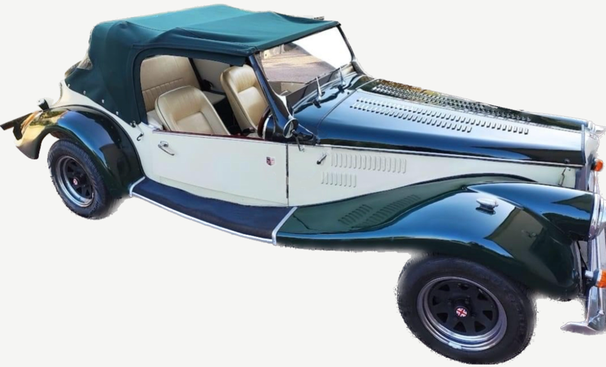 About beautiful Spartan in different colours, here is the beautiful blue Spartan of one of the readers of this site :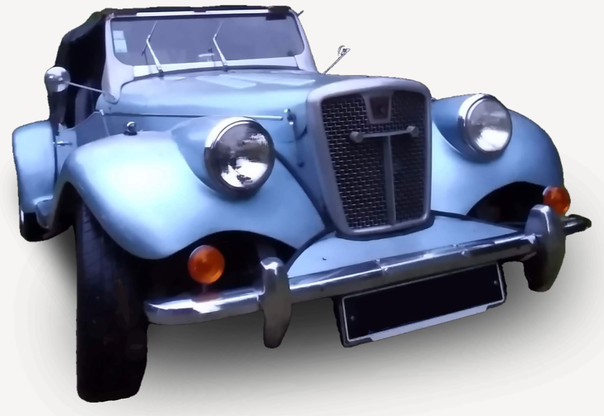 Under its hood is a Ford 2.3 V6 engine.
It was precisely his car that was used by Spartan Cars to promote the brand in an advertisement that appeared in the press at the time.
Here is this 1981 advertisement, on which we can read that at that date, Spartan Cars had already sold more than 1000 of these superb cars :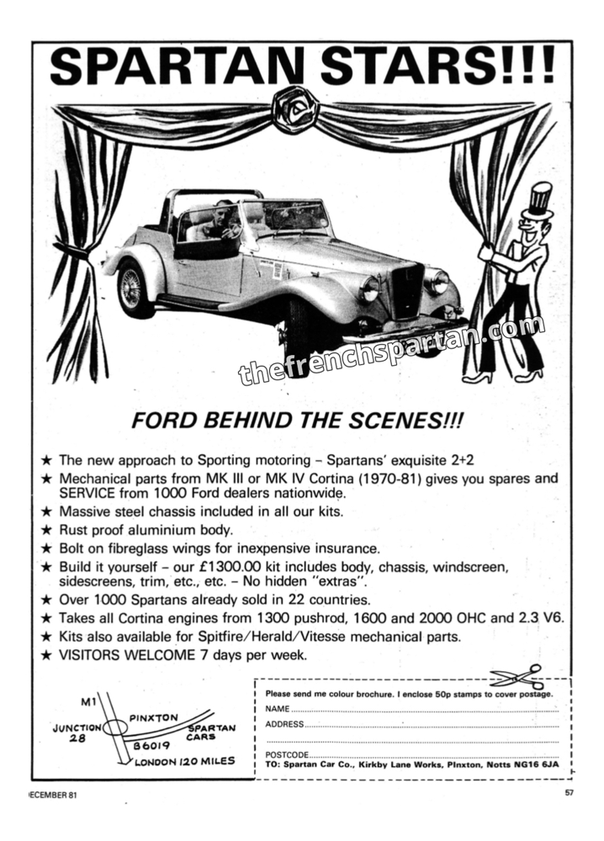 His Spartan had also made the cover of SPORTS CAR MECHANICS magazine where she was found on inside pages :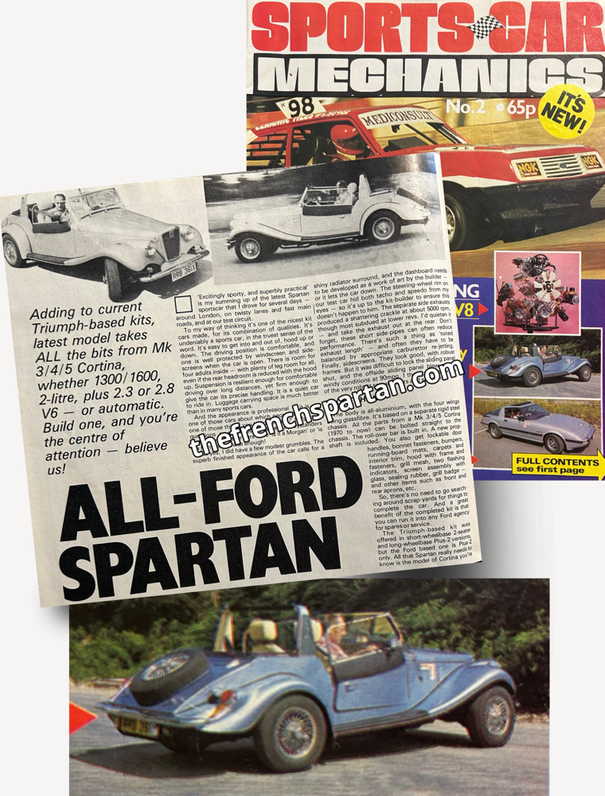 This Spartan is still driving, you could cross it on French roads.
---
When they arrived on the market in 1973, the first Spartans wore an "S" on their grille.
This can be seen in the photos of the magazine CUSTOM CAR, which devoted an article to them in 1974 :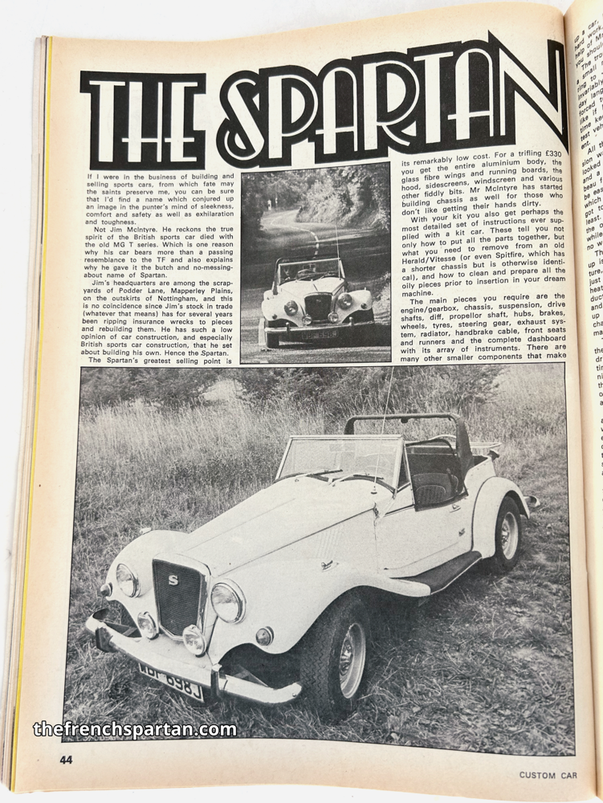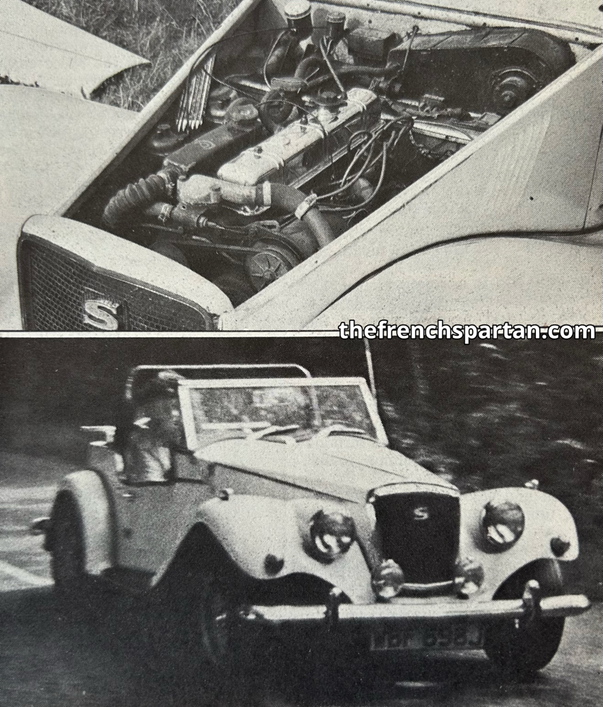 Few months after writing this article, I come to complete it after finding the first Spartan emblem of 1973.
It bears the marks of time, and is steeped in history
…
 :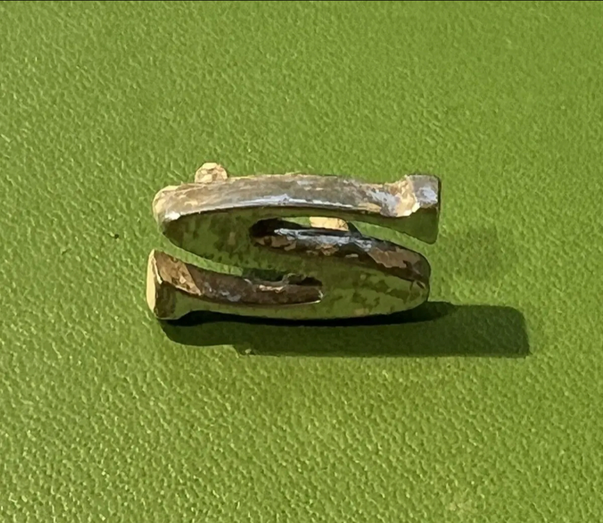 It will be necessary to wait until the end of 1975 to see the famous brand logo arrive, and that the enamel Spartan badge is then integrated into the upper part of the redesigned grille to receiveit.

---